this one via metafilter: Takashi Murakami. He's being called the Japanese Andy Warhol. He produces awesome artistic images with a uniquely modern japanese aesthetic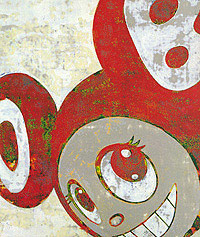 but he also markets the hell out of himself and makes hella bank.



Also, he's the guy who redesigned the Louis Vuitton logo we've all come to know and hate over the last 10 years:


He's inspired more than his share of criticism from the art world - but what truly revolutionary artist doesn't?

Anyway, check out the MeFi links for more reading on Murakami. He's good stuff.